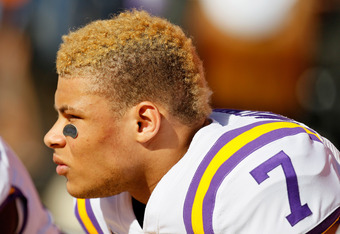 If you watched the very forgettable NCAA National Championship football game involving LSU and Alabama this week you may have heard the name "The Honey Badger" used a few hundred times. LSU defensive player #7 Tyrann Mathieu holds the animals You Tube sensational video as his self described playing style. It was most likely the most memorable detail of the game outside of Alabama's dominance on defense. The animal and its affiliation through either the viral video or the LSU player Mathieu has become so popular I estimate that a majority of football fans watching the game may only remember Mathieu as "The Honey Badger". He was successful in branding his ability that may at some point yield more money, but most importantly it has yielded him differentiation and a lasting impression.
We all wish to leave a lasting impression in our own respective careers. Depending on your field, possessing a unique identity and that identity being remembered can be crucial to first and lasting impressions. In a very competitive workforce, making an impressive showing of ones abilities as well as creating an ingrained reminder as to who you are is key to successful networking. It's marrying both ability/talent with a lasting impression while making it easy for others to remember and reference you that is so important to making an effective connection. As a result I personally have latched on to my identity as
'The Orange Duck'. A motivator, accomplishing the frantic work of a duck below the surface while portraying poise all the while.
It is my brand, my Honey Badger if you will. It represents me, and more importantly a memorable me in two words. (At the bottom of this post I explain where and how the "Orange" and the "Duck" originated from for me.)
I plan to leverage the "Orange Duck' identity this year to test its effectiveness. I mean if Kobe has the Black Mamba and countless other sports figures have nicknames that tout their best attributes why not me? So what I encourage is for one to seek out what your personal brand or mascot might be, and seek it from the opinions of your peers and superiors (beware of detractors). I caution you to avoid too much of a self anointing role when identifying your best characteristics. Make sure that your professional brand consists of input from credible or discerning outside opinion. Often times what we perceive to be our strengths are what we would LIKE them to be as opposed to what we actually posses. This misrepresentation often leads to eventual unmet expectations and a brand not capable of delivering on its brands claims. Embrace your perception amongst your peers, leverage it through an example that embodies you, and soon you will be looking forward to making the most of that elevator speech that is both efficient, effective, and hopefully memorable.
While the 'Orange Duck' may not ever sell any Nike shoes, or inspire a You Tube viral takeover, it just might get me remembered. In the instance that it does I'm prepared to take care of the rest.
Orange:
After finishing leadership training for my company last year I completed a complex personality survey (
http://www.insights.com/Libraries/Factsheets/Insights_Discovery_Learning_System.sflb.ashx
). At the end I was assigned a color that corresponded with my personality and preferences. It was spot on to say the least. My color was orange. I was labeled under the banner of 'Motivator' amongst other things. Orange.
Duck:
Never afraid to display perceived skill in front of my peers, I volunteered to role play with my boss in front of the Vice President of our Division during a sales meeting. After I was done the VP of the division paid me the complement many have before, but in a unique way. He compared me to a duck. He mentioned my ability to conversationally accomplish a pitch without it seeming like one. I held on to that. What better way to share a personal strength or skill than have it summarized by an animal? This is where I get the duck label. Had I not put myself out there to role play in front of my superiors I would have missed out on his assessment. It paid off.